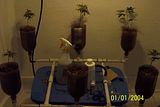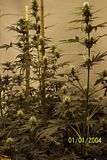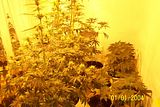 Ok, I started my Widow Max from seed on June 1st 2009. Out of 10 seeds I got 10 to germinate of which 1 died when taken from paper towels and placed in little jiffy pots. It rotted actually in the tray with the lid on. I then moved these from the tray and planted the jiffy pots in 2 gallon containers. After some reading I understand if the tap root is confined the ratio of female to male can decline so I will skip the jiffy pots next time and hope for more females!
On July 23rd I cloned the Widow and planted my Afghan seeds. Only 5 of the Afghan seeds germinated but I thought the seeds all looked like duds anyway so I was happy with that. The following week I started the ICE seeds. 8 of these sprouted. Today is August 16th which puts me 24 days into flowering 53 days after placing the seeds in paper towels. The tree plants were 17-25 inches with the tallest having been deformed looking and thought of as a male from seed. All three plants are in the same conditions so it's just a funky plant and was not used for any clones! One plant is slower than the other two and seems to be retaining more water in the soil mix of dollar tree soil w some miricle grow mix. I won't do that soil mix again I assure you!
I selected Widow, Afghan and Ice because they were rated as easy to grow. I did not know Widow was one of the hardest strains to clone. 4 weeks after cloning the widow it appears I am getting new growth. I screwed up using nutes for the veg state as a rooting solution in the ebb & Flow set up I made. I used 1' rockwool placed into the clay tablets watering them 4 times a day and fequently mist them in a humidity of 55% which is shared with the flowing plants. Everthing is in one room.
After watching the soil Widows Grow I've found one plant I like best. I plan to harvest all of these plants 2 or maybe even 3 time as they ripen leaving the rootstocks and small under developed buds to finish or regenerate in 20/4 lighting. I've read that although Widow is hard as hell to get to root from clippings it does extremely well at regenerating for subsequent harvests!
At this time I am 24 days into flower and you can see what I have in the closer bud pics. It's a pretty good sample of the plants as a whole. Do these buds appear poorly developed and if so what recommendations do you have. I am using a 400 Watt HPS with 1-4-5 Liquid Hydro in the agressive flowing mixture recomendation. I have never flushed them and planed to use PH Ballanced Arated Water to flush them since the soild seems to be retaining more water than it should which should assit in getting O2 to the roots. I also plan to continue the watering at about every 4 days as needed this way with the nutes. What else will help the buds fatten up even more. They don't look too bad to me but I know I can do better! FYI the rooms is kept 72-80 with the humidity at 50-60% at all times. Wall unit AC is doing all of that work. Also have the 150 HPS on the clones. They seemed to repond well to a change to high phos, low Nit solution and chanign from MH to HPS.